2300 rpm Drill Grinding Machine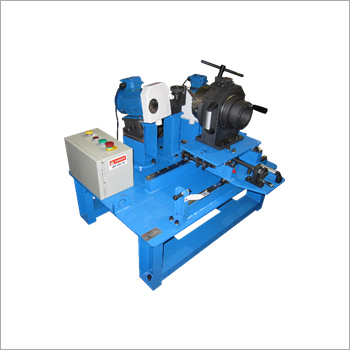 2300 rpm Drill Grinding Machine
Product Description
A drill grinding machine is a type of machine tool used to sharpen and grind the cutting edges of drills. It can be used to sharpen various types of drills, including twist drills, step drills, and center drills, among others. The machine typically consists of a grinding wheel and a motor, and it uses precise angles and movements to ensure that the drill bits are sharpened accurately and uniformly. Drill grinding machines are commonly used in industries such as manufacturing, aerospace, and automotive for the maintenance and repair of drill bits to ensure that they are operating at their optimal performance levels.
Specification:
| | |
| --- | --- |
| Model | TK-60M |
| Grinding Shape | Drill specialized for steel structure 160 Deg cutting edge + thinning |
| Drill Shank | MT4 shank |
| Grindwheel Rotating Speed | 2300 rpm |
| Grindwheel | CBN formed Grind wheel |
| Motor | 0.4 KW x 2 |
| Dimensions | 1000 x 1000 x 700 mm |
| Weight | 200 kg |
FAQ
1. What exactly is a drill grinder?
Ans - Drill bits are sharpened and re-sharpened using a drill grinding machine. Usually, it consists of a motor with variable speed settings and a spinning grinding wheel.
2. What kinds of bits can a drill grinding machine sharpen?
Ans - The majority of drill bit types, including twist drills, spade drills, core drills, and countersink drills, can be sharpened using a drill grinding machine.
3. How should safety measures be followed when operating a drill grinding machine?
Ans - Using safety goggles, gloves, and making sure the grinding wheel is securely fastened to the machine are essential when using a drill grinding machine. Also, it's crucial to check that the grinding wheel isn't too hard because doing so could break it.
4. How frequently should a drill grinder be used?
Ans - As a drill bit starts to lose its cutting ability or becomes dull, it should be ground using a drill grinding machine.
5. How should a drill grinding machine be stored?
Ans - A drill grinding machine should be kept in a dry, dust-free environment. Also, it needs to be kept out of direct sunlight to avoid overheating the device.
Trade Information
Taichung Taiwan

5-10 Per Month
Asia, Australia, Central America, North America, South America, Eastern Europe, Western Europe, Middle East, Africa

All India
Contact Us
8 31st Rd., Industrial Park, Taichung Taiwan R.O.C, Taichung, Taichung Shih, Taiwan
Phone :+886963157617